Earth Day 2020
Earth Day is THIS WEEK – April 22nd 2020!
This year's Earth Day theme is "CLIMATE ACTION". As many of us are currently staying safe an healthy at home, it is a great time to talk with your family and/or to take the time to think about what Climate Action means to you!
Copy, Paste, Save or Print out these drawings, save them on your smart device, color them in, and have FUN! Be creative with your family and while you draw discuss what you can all do together to support Climate Action!
POST photos and videos of your efforts on Facebook to share with your community! Be sure to tag @i.d.energy and use hashtags #partofthesolution and #earthday in your posts! We will be re-posting photos and videos all week to help spread the importance of Earth Day and Climate Action!
Wondering how to talk to your kids about Climate and Sustainability? Check out NASA's Climate for Kids page for some great resources!
From the UN Sustainable Developments:
"Climate change is now affecting every country on every continent. It is disrupting national economies and affecting lives, costing people, communities and countries dearly today and even more tomorrow. Weather patterns are changing, sea levels are rising, weather events are becoming more extreme and greenhouse gas emissions are now at their highest levels in history. Without action, the world's average surface temperature is likely to surpass 3 degrees centigrade this century. The poorest and most vulnerable people are being affected the most."
"Affordable, scalable solutions are now available to enable countries to leapfrog to cleaner, more resilient economies. The pace of change is quickening as more people are turning to renewable energy and a range of other measures that will reduce emissions and increase adaptation efforts. Climate change, however, is a global challenge that does not respect national borders. It is an issue that requires solutions that need to be coordinated at the international level to help developing countries move toward a low-carbon economy."
Slowed Down? Don't Stop!
While most inspectors are at home through these difficult times, many are staying forward focused, active, and engaged.
I.D. Energy COVID-19 Update and Opportunities.
---
As we all are bracing for the economic effects of our current pandemic, there is a financial balance we are all working to find for ourselves, our families, and our businesses. As much uncertainty still exists, many inspectors know that utilizing marketing and USP's (unique selling propositions) can be the difference in selling more inspections during a troubled real estate market. A market that soon may be reality.
Currently, we have seen a massive surge in our users completing their mentoring and certification for the Home Energy Score program in the last few weeks! Many are working to gain their certification so that they may utilize the Home Energy Score not only as a valuable service, but as a superior marketing strategy. The best part about our 'remote' Fast Track Training and Virtual QA programs? – You can get fully (and safely) certified from your home with only a computer and internet connection!
Through these difficult times, I.D. Energy looks to continually support and assist the progress of our users so that each can find success in completing their Certification and/or has the resources to be successful in deploying the Home Energy Score as a part of their services. If you need any support or have questions, please reach out to the "Support Squad" – [email protected]
---
GET CERTIFIED
To further assist those during this difficult time:
I.D. Energy will be offering $100 off our Fast Track Training Program to become a Home Energy Score Certified Assessor™ NOW Through APRIL 30th.
To Receive Discount Use Promo Code:
"CANTHOLDUS"
---
For Certified Assessors
A message from Madeline Salzman at the U.S. Department of Energy:
As we continue to navigate through the Covid-19 crisis, we will do everything we can to support you and your employees. We know that the existing requirements for Home Energy Scores may not be feasible because of social distancing and other restrictions in place. As a result, we are suspending the minimum requirement for Assessors to complete one score every 180 days to remain active.
Because of the tremendous impact that COVID-19 is having on businesses and non-profits throughout the country, including the home energy industry, the Small Business Association is providing targeted, low-interest loans for small businesses and non-profits that have been severely impacted by Covid-19. If you are interested, visit the SBA website to determine eligibility and fill out an application: https://www.sba.gov/page/coronavirus-covid-19-small-business-guidance-loan-resources
We are looking at a number of other ways we can support you during this difficult time. If you have specific suggestions to share, please email them to Home Energy Score Team member Gretchen Hitchner at [email protected]. Your input is especially important as we determine our priorities moving forward.
---
Thank you everyone.
Please, among all other things, keep yourself and your families safe and healthy.
Brent Loya – I.D. Energy Program Manager
Vol. 10
---

I.D. Energy and Earth Advantage Partner to Offer Home Energy Assessors An Easier Way to Produce Home Energy Scores
MARCH 4TH, 2020 — I.D. Energy®, a division of Inspection Depot Inc.®, is excited to announce a new partnership with Earth Advantage® and their respected Green Building Registry®. The I.D. Energy Home Energy Scoring Tool app has dramatically streamlined the process for certified assessors to collect and generate official U.S. Department of Energy Home Energy Score reports quickly and easily. The new partnership connects I.D. Energy's app and web-based scoring tool platforms to the Green Building Registry which provides energy information for homes and buildings in various markets nationally. A Home Energy Score Certified Assessor using the Green Building Registry system will now be able to claim and verify an address and synchronize the address' unique identifier directly to the app or online scoring tool. This will further streamline the data collection procedure in these markets eliminating additional time for certified assessors and creating a plug-and-play solution for Home Energy Score programs!
"We are excited to continually innovate our technology to assist in bettering the services of Certified Assessors nationally. By connecting with Earth Advantage's Green Building Registry, Certified Assessors utilizing the GBR will have a streamlined technique to be more efficient with their data collection. All Certified Assessors who choose to use the app will be able to save time and money when producing a Home Energy Score." Brent Loya – I.D. Energy Program Manager continues that "with remote quality assurance features already packed into the app, and with an Android app in development, this tech brings solutions for both Certified Assessors and program partners alike!"
The release of the new app update with connection to the Green Building Registry will be available in March 2020 for any Certified Assessor within the U.S. Department of Energy Home Energy Score program. For the release, I.D. Energy will proudly be offering discounted pricing through April 15th, 2020 for Certified Assessors to gain access to the technology. For more information about the app, pricing, and other I.D. Energy services please visit www.EnergyScoreUSA.com.
About I.D. Energy
I.D. Energy was established as a division of Inspection Depot Inc. to provide opportunities for building performance services within the inspection and real estate industries nationally. I.D. Energy has worked with the U.S. Department of Energy's Home Energy Score program to create and provide remote training and remote quality assurance programs. Since, we have received the Innovation Award in 2018 and 2019, and the Leadership Award in 2018 from the Home Energy Score program for our efforts. I.D. Energy looks to continually innovate solutions for all types of inspectors and real estate professionals to provide the highest quality energy information to US homeowners.
For more info visit: energyscoreusa.com
Contact: [email protected]
About Earth Advantage
Earth Advantage is a Portland, Oregon based nonprofit focused on advancing residential buildings' energy efficiency and capturing that value within the real estate market. The organization provides building certifications in the Northwest, as well as providing training to building professionals, and conducting relevant research. In 2017, they created the SaaS platform, Green Building Registry, which ensures that verified home energy efficiency and green data is available across the U.S. to the public and multiple listing services.
For more info visit: earthadvantag.org
To find green home data visit: us.greenbuildingregistry.com
If you would like more information about this topic, please contact:
I.D. Energy at [email protected]
---
Promo Available NOW – April 15th, 2020!
Use Promo Code: "GreenBuildingRegistry" when purchasing your subscription to receive discount!
Download the App, Create your Account, and get a FREE 1 Week Trial!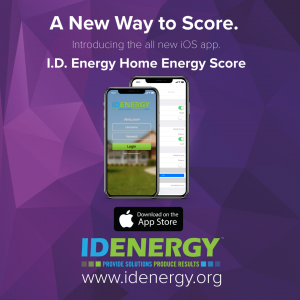 ---
Static Vs. Dynamic – Provide MORE in your inspection reports with a Home Energy Score.
From Home Diagnosis season 2, hear why home performance is about so much more than inspections, good construction, or following code requirements. It's nothing less than the tuning of indoor physics and chemistry to create a home that feels, smells, and sounds exactly the way you want it.
Home Performance Experts Grace and Corbett Lunsford created the first-ever series on the science of homes, which airs on public television stations nationwide.
The six episodes of Season 1 were shot in cities across the U.S. as part of the Proof Is Possible Tour, and the show follows Corbett and Grace in the #TinyLab as they solve mystery problems of all types in homes new and old.
Season 2 of Home Diagnosis teaches a conceptual approach to building science over 13 episodes. The season follows the build of Grace and Corbett's 3,000 sq. ft. house in Atlanta GA, which incorporates all of the tuning methods explained in the show. Follow the home build videos by subscribing to the Lunsfords' Home Performance YouTube channel, or at our Atlanta Homestead page.
We'll go way deeper on the topics of indoor physics, chemistry, and microbiology in this second season, and will bring you guest experts from around the globe. You'll never look at your home the same way again.
---
What is the Green Building Registry?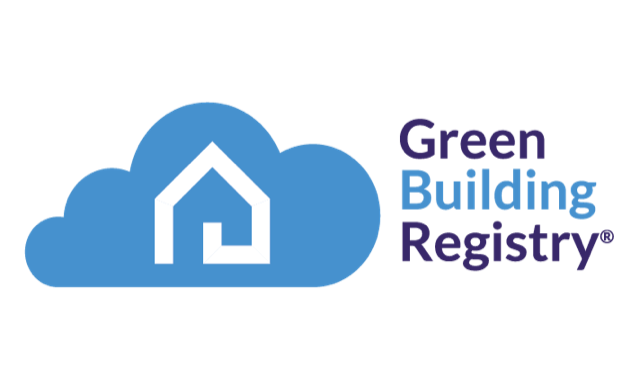 Since 2017, the Green Building Registry® (GBR) has provided home data, verified from the source to the public and multiple listing services.
The platform allows the U.S. Department of Energy Home Energy Score™ assessors, to verify their assessments in real time. Other verified sources such as green home certifications, HERS® Index scores, solar data, and regional energy certificates are securely uploaded into GBR directly from the source. The goal of GBR is to provide verified, secure, green home and energy efficiency data to the market in order to correctly value a home. Only trusted data, that originates from the data source is allowed into the platform. No third-party alterations such as real estate agent or homeowner inputs are allowed, in order to preserve the veracity of the data itself.
The Green Building Registry was built and is maintained by the 501(c)(3) nonprofit, Earth Advantage, Inc. Earth Advantage is dedicated to advancing energy efficiency and green building standards, valuation, and data in order to accelerate the adoption of super-efficient and sustainable homes across the country.
---
RECAP: Inspection World 2020 in New Orleans
I.D. Energy Ambassador Rose Buckley and Program Manager Brent Loya speak with Chris Murphy from A-Action Home Inspection Group about the Home Energy Score program and why it works so well with a Home Inspection!
---
Coming Up: Building Performance Association Conference!

The 2020 National Home Performance Conference, taking place April 27-30 in New Orleans, is the largest meeting of home performance and weatherization professionals in the country, and the conference program is the heart of our national event.
The 2020 National Conference is an inclusive opportunity for all involved in the industry to engage in exceptional formal and informal learning experiences that support career development, increase individual and organizational productivity, and lead programs, businesses, and organizations to achieve superior results. The conference agenda aims to provide meaningful, engaging education and dialogue for both the entry-level field staff and the seasoned professional in the residential energy efficiency, home performance, and weatherization industry.
I.D. Energy Program Manager Brent Loya will be presenting in the Remote Data Collection for Audits and Quality Assurance session on Wednesday April 29th with Jason Elton of Earth Advantage and Becky Olson of the Center for Energy and Environment.
Check out the Event and full Schedule of Sessions!
---
Vol. 9 2019 Special Holiday Edition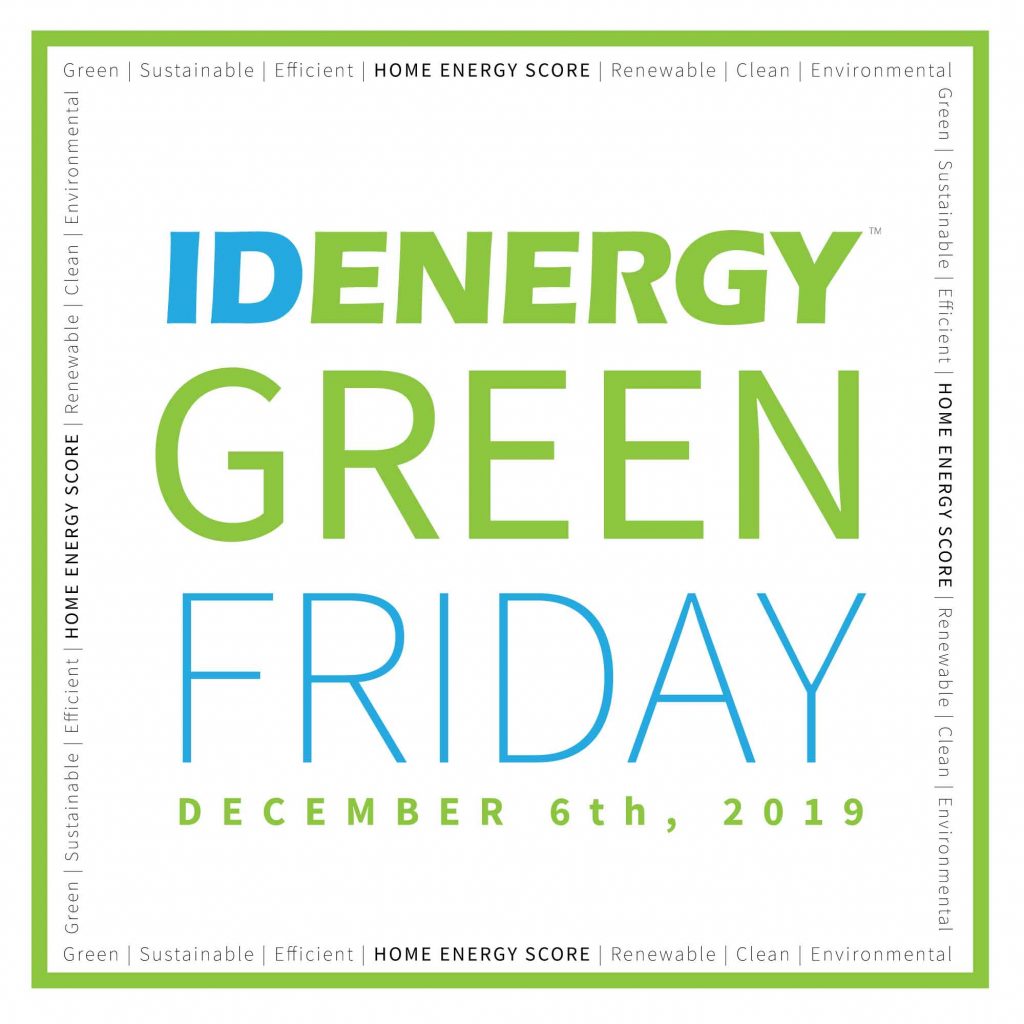 Home Energy with Ease
Emmy the Energy Elf shows YOU just how easy performing a Home Energy Score is with a Home Inspection!

Like and Follow I.D. Energy on YouTube to get updates on all new videos!

Video Credit: Rose Buckley – I.D. Energy Ambassador | Certified Assessor
@RoseBuckleyMDHomeInspector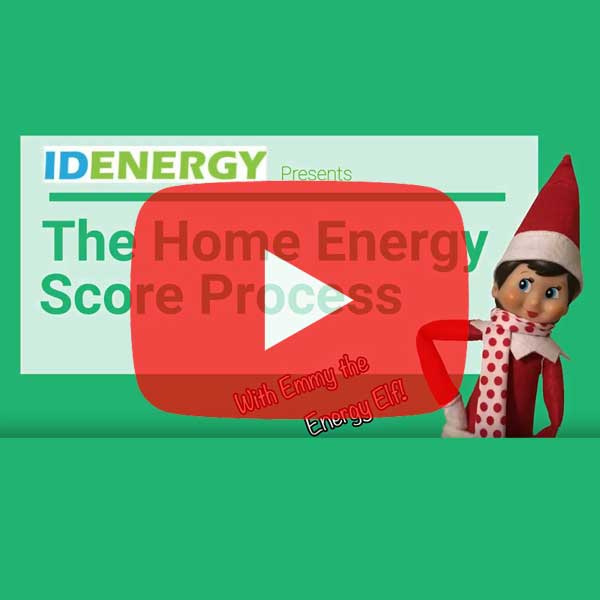 Get Certified @ Inspection World 2020!
Feel more comfortable in a classroom setting? I.D. Energy will host a Home Energy Score Certification training at ASHI's 2020 Inspection World Conference in New Orleans this upcoming January. Start 2020 by making a difference for your customers and community.

Register For IW2020 Training.
Learn More about HES Certification.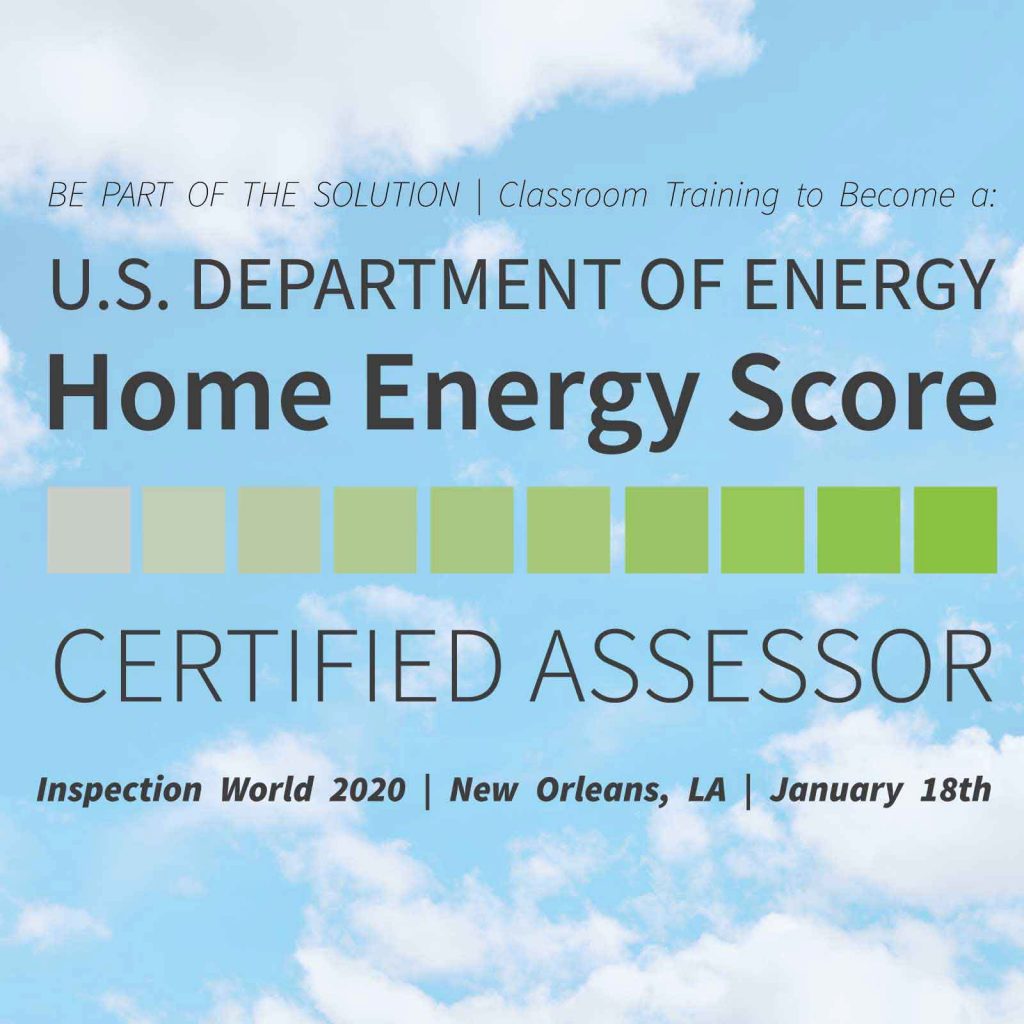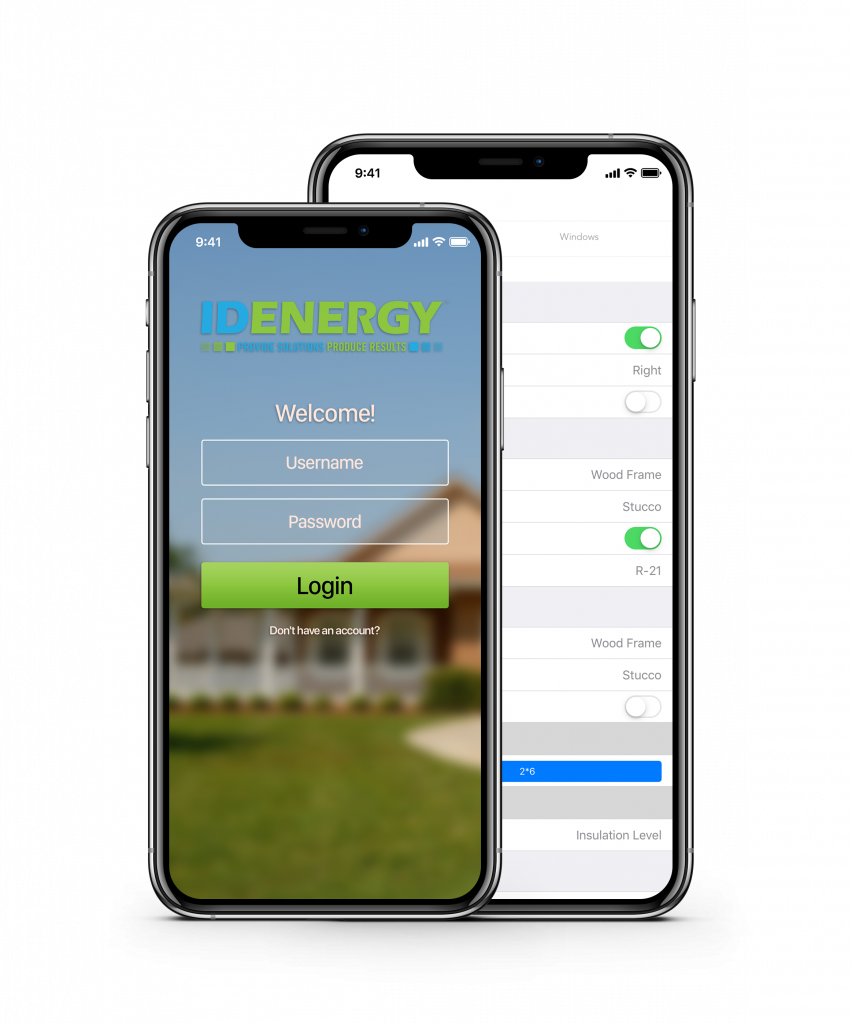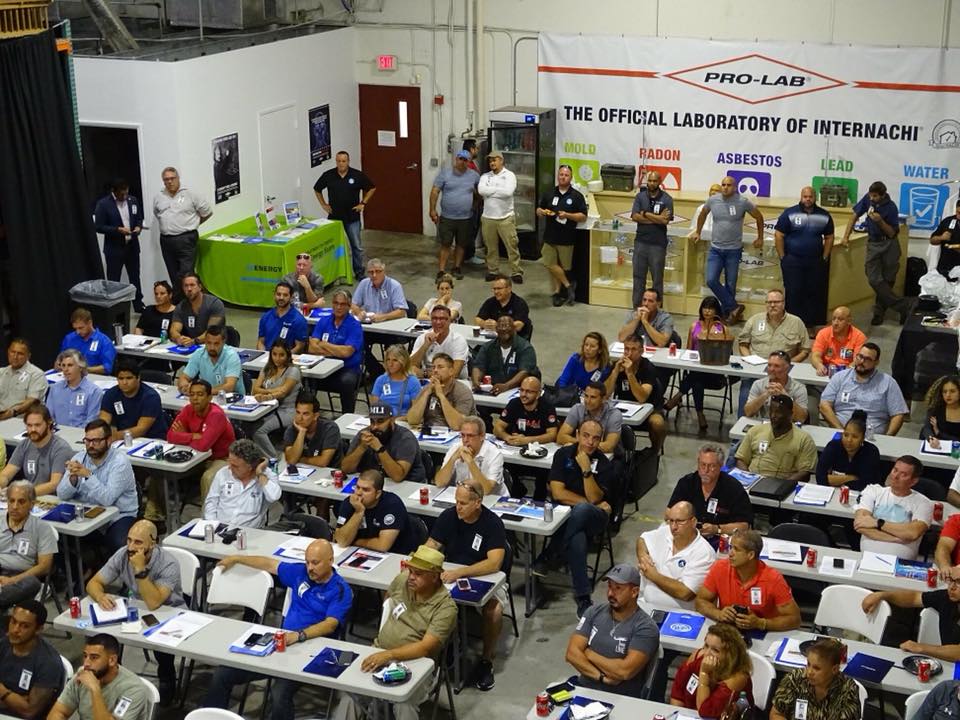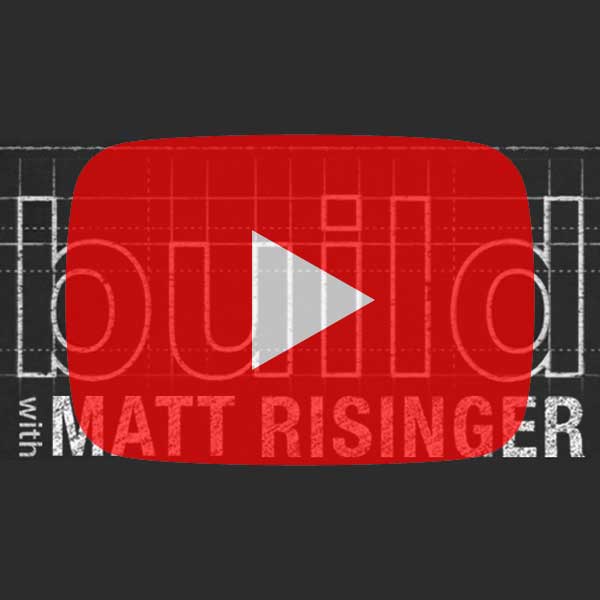 Insulate and Air Seal
Most homeowners think that windows are the key to better efficiency and more comfort… this is completely wrong. The best, and often times most affordable, measure for a home is to be properly insulated and air sealed! Utilizing the Home Energy Score is a great source to SHOW your clients how much it can save them in energy and costs!

Watch Video.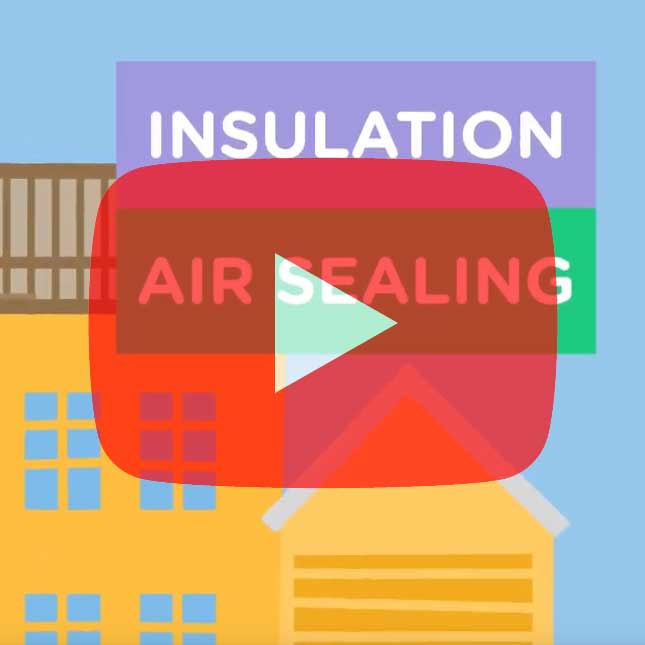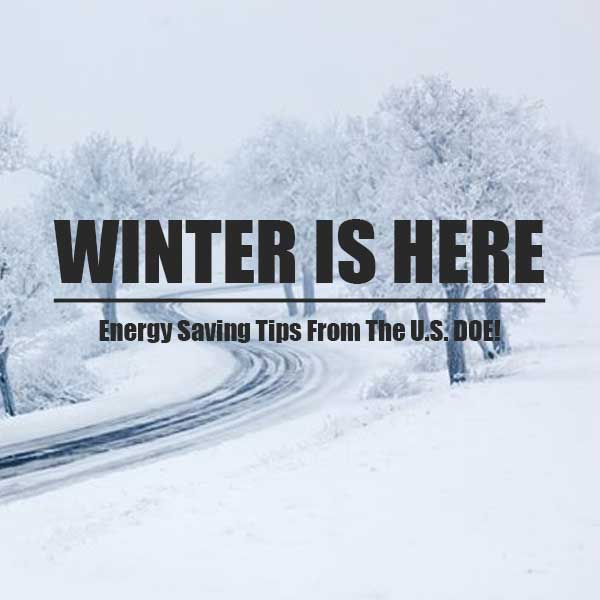 VOL. 8
Educated Home Inspectors,
Advancing Home Performance
By Elyse Umlauf-Garneau | August 2019
Every profession – real estate practitioners, lenders, appraisers and so forth — associated with a real estate transaction plays an important role in advancing home energy efficiency.
The home inspection industry is no exception.
I.D. Energy, an approved partner and service provider of the U.S. Department of Energy's (DOE) Home Energy Score, provides distance training to home inspectors across the country.
The Jacksonville, Fla.-based company teaches inspectors to conduct home energy assessments and assign a DOE Home Energy Score (HES) to the homes they inspect.
The distance learning option gives inspectors access to new skills, even if they work in remote or rural markets.
In addition, the company is a Home Energy Score service provider for Pearl Home Certification, American Society of Home Inspectors, Building Performance Institute, and others, and delivers training, quality assurance, and software for the HES.
It's also managing an energy pilot program for the city of Denver that's aimed at heightening awareness and energy savings among home buyers, sellers, and owners. The city is providing HES to single-family homes and assessing whether that information influences consumers to make energy improvements.
Inspectors' pivotal role
Brent Loya, I.D. Energy's program manager, in addition to seeing home inspectors as playing crucial roles in helping homeowners understand a home's energy efficiency, anticipates greater demand for such home scoring services.
After all, he points out that energy disclosures are becoming common in more markets – think Portland, Ore., and Austin, Tex., for example – and there's greater consumer awareness of and concern about home operating costs.
Right now, I.D. Energy has just under 500 certified assessors, and Loya is working to increase that number.
Providing a baseline number to consumers
Though such inspectors don't conduct intensive exams like blower door tests, the inspections they do are affordable – some inspectors are including the service as part of their standard package and others provide it as an add-on service – and give homeowners the easy-to-understand MPG-style home rating.
"It's simple and affordable gives people a baseline and a place to start," says Loya. "We think everyone deserves to have an understanding of how their home performs."
Loya sees such inspections and the HES especially valuable for Millennial buyers, given that they're frequently on tight budgets and need a complete picture of their monthly costs. Having the HES provides what he calls "an entry-level roadmap to understanding the energy efficiency of a house" that helps them find ways to lower monthly utility costs and make improvements that will raise the value of their new home.
He doesn't think a low score is necessarily a deterrent to buying an older home and uses himself as an example. He just purchased a 1947 property that needs energy efficiency upgrades and says that the HES helped him map out future projects and understand the potential payback of each change.
Heightening professionalism
Putting such information into the hands of buyers and sellers can be positive both for you and for real estate industry.
For one, it's a conversation opener and lets you share your green knowledge with prospects and enhance your value to them. You can discuss the HES in more detail, connect clients to other experts and skilled contractors, and point them to state and local energy incentives.
For sellers with homes that receive a pre-listing inspection, a good HES can be a powerful marketing tool. For buyers, knowing the HES can be tremendously valuable in understanding their total cost of homeownership and the projects they'll need to do to achieve a higher HES.
In addition, having more educated inspectors in your community only enhances your networking circle. It's a win when there are more home-related professionals conveying energy efficiency and home performance messages to consumers.
---
Become A U.S. Department of Energy Certified Assessor
Classroom Trainings Coming Up This Fall and Winter!
Separate your business from the competition with the U.S. Department of Energy's Home Energy Score. Complete the U.S. DOE's Home Energy Score online training in record time during a one-day classroom setting with Home Energy Score expert Brent Loya! The instructors will walk through the online simulation with you step by step, providing individual attention as needed throughout the day to each student. This training takes many inspectors up to 20 hours to complete at home, so this one-day class offers a great head start into a program that is increasingly seen as a "must-have" for buyers across the country.
As part of this training package, attendees will automatically be registered for the last step of the DOE's required training process – a mentored Home Energy Score through I.D. Energy's award-winning Virtual Mentorship Program and will receive DOE required quality assurance on your first 5 professional assessments, access to online software and mobile apps, tech/program support, and access to the I.D. Energy Exclusive Marketing Suite once completed with the training and certification.
The Home Energy Score is coming to the State of New York in a BIG way!
New programs from NYSERDA will be promoting the Home Energy Score across the state of New York starting Winter of 2019!
New York's Senate has passed a climate bill that will set the most aggressive clean energy target in the country.
Receive 8 ASHI CE Credits for the Training
Attendees will need to bring: A decent/up-to-date laptop computer.
Cost: $450 Before October 1st, $500 after and up to the day of class! – Includes special-one-day classroom training, Virtual Mentorship, and Initial 5 QA Scores – Full Fast Track Training Program.
For more information about the Fast Track Training and/or the Home Energy Score visit: www.EnergyScoreUSA.com
Questions? Email: [email protected] or Call 866-499-4921
Receive 8 ASHI CE Credits for the Training
Attendees will need to bring: A decent/up-to-date laptop computer.
Cost: TBA – Includes one day classroom training, Virtual Mentorship, and Initial 5 QA Scores – Full Fast Track Training Program.
For more information about the Fast Track Training and/or the Home Energy Score visit: www.EnergyScoreUSA.com
Questions? Email: [email protected] or Call 866-499-4921
Meet Home Energy Score Ambassador, Ms. Eco International, and Home Inspector Extraordinaire Rose Buckley!
Cost and Registration directly with ASHI on the Official Inspection World 2020 website.
---
NYSERDA: Help Wanted!
Energy Minded Home Inspectors Apply Here!
The New York State Energy Research and Development Authority (NYSERDA) is administering the Home Energy Ratings Pilot (Pilot) to assist New York homeowners in improving the energy performance, durability, comfort and safety of existing one- to four-family homes. The Pilot will last 2-3 years to establish home energy ratings in specific markets to increase consumer awareness and demand for energy efficiency services. The Pilot targets homeowners who are ready to invest in their homes and are looking for independent, trustworthy information. Home inspectors and contractors will provide homeowners with third-party home energy performance ratings including opportunities for improving their energy efficiency and therefore their home's comfort, safety and cost performance.
The pilot targets market-rate homeowners, that is homeowners who are not eligible for low- or moderate-income services.
The pilot solicitation will be offered in 4 rounds. In Round 2, open now, NYSERDA is seeking applications from licensed home inspectors to deliver ratings to homebuyers as part of an inspection. The energy ratings are to be used to encourage home buyers to invest in energy efficiency upgrades of their newly purchased home.
See full details and application | Must submit application by October 3rd.
Interested? Want more information? Contact Keith Bohling | [email protected] | (518) 862-1090, Ext. 3491

---
iOS App = Game Changer
There is NO reason NOT to include a Home Energy Score with your Inspections!
Inspectors report using app takes NO MORE than an additional 5-10 min with an existing inspection to enter, submit, and generate your clients customized Home Energy Score Report!
I.D. Energy presents an All New Scoring Tool app for U.S. Department Home Energy Score Certified Assessors.
Integrated Assessor Calculator: Don't slow down your process by calculating R-Values, Efficiencies, or areas. These calculations are streamlined directly into the scoring tool!
Instant Report Generation: Submit and generate your U.S. Department of Energy Home Energy Score report on-site as soon as you are completed with the assessment.
Manage your Scores from one place: Email Reports to Clients and edit existing reports as corrected, final, or alternative without entering data twice.
Rapid Fire Photo Capture: Easily capture photos, caption, and edit directly to your report to comply with I.D. Energy's Award Winning Quality Assurance programs.
App is compliant for all Home Energy Score Partners and Programs.
Free Access and app usage available for all training or Certified Assessors in I.D. Energy's Virtual Mentorship or DTQA programs.
If you are subscribed with I.D. Energy's Fast Track Training or Desktop QA programs you have instant and free access to our all new iOS app! If you are not subscribed to I.D. Energy's award winning training and quality assurance programs, you can still gain access to our online and mobile Scoring tools! Using the mobile app will allow you to complete required calculations quickly and easily on-sight, generate and email reports instantly, and manage your Scores in one easy to use interface.
*Android Users – We are currently in development updating our I.D. Energy Home Energy Score App for Android devices… stay tuned for updates and release date!
Vol. 7
Home Energy Score App
for iOS Devices
For all Home Energy Score Certified Assessors!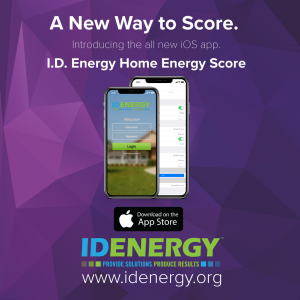 ---
"There is GOLD in GREEN"
"Energy Efficiency Brings Buyers"
…Says the National Association of REALTORS
A majority of real estate professionals—69 percent–said that promoting homes' energy efficiency features in listings is very or somewhat valuable, according to the newly released REALTORS® & Sustainability Report. The National Association of REALTORS® surveyed about 6,000 real estate professionals to learn about their clients' perceptions over sustainability in real estate.
Agents need to be ready to answer questions on the topic, the study found. Thirty-four percent of agents say that over the last year, they've been directly involved with a property that had green features, either on the buyer or seller side. However, 36 percent of agents say they are not sure how comfortable they are answering clients' questions about home performance; 20 percent said they were "uncomfortable"; and 6 percent said they were "extremely uncomfortable."
Still, over half of agents and brokers say that consumers are interested in sustainability. Some of the top issues agents say they're fielding questions about are related to lending options for energy upgrades or solar installations and to improving the energy efficiency of existing housing stock.
But many agents are still unclear about a lot of sustainability issues involving properties. For example, 50 percent of agents say they aren't sure if homes with green certifications increase or decrease time on the market. Thirty-eight percent were not sure how to connect clients with lenders who could help them in financing sustainability improvements on their property.
NAR offers the GREEN designation for real estate professionals to get advanced training in green building and sustainable business practices to help market properties with green features and respond to client questions. Also, NAR's Sustainability Advisory Group is offering a chance for members to get engaged in their communities around sustainability initiatives.
Forty-one percent of agents said their MLS has fields for green data, and they typically use those fields when they can to promote green features and energy information, the survey found.
The Green Features Customers Care Most About
Overall, the home features that agents said are the most important to clients related to a comfortable living space, proximity to frequently visited places, and quality windows, doors, and siding.
In general, the top neighborhood features that agents said their clients were most looking for were access to schools (80 percent), access to shopping (72 percent), and parks and outdoor recreation (59 percent), the survey showed.
Source: 
"REALTORS® & Sustainability Report: April 2019," National Association of REALTORS® (April 19, 2019)
---
UPCOMING CLASSES
October 17th, 2019 – Niagara Falls Home Inspection Conference Classroom Training. Learn More!
Use Promo Code: "SummerTime" to get $50 Off the Niagara Falls training until August 1st!
January 18th, 2020 – ASHI's Inspection World in New Orleans, LA. – Learn More!
---
Vol 6
All In Energy Inspectors – Assessor Spotlight
Delivering The Goods – New Marketing Materials
iOS Home Energy Score App Update
"All-In" Energy Inspectors
Today's profile builds upon the usual "Assessors in Action" section to spotlight a particular category of inspector – those who have boldly chosen to include a Home Energy Score with every inspection report. We're recognizing the whole-hearted commitment of this ever-expanding group by dubbing them "All-In" inspectors, and the first name on the docket is Rose Buckley. If you've been living under a rock and haven't heard of Rose, her profile in last month's ASHI Reporter is a great place to start. We caught her between inspections recently to get a feel for how this 100% approach is working for her business.
How do you market The Score?
I've built up a pretty solid platform on Facebook, Instagram, LinkedIn, etc., so it's easy for me to get the word out about my services and to explain the HES process and its benefits that way. I also really try to find new ways of getting "facetime" with my agent network, and I'm finding that a lot of offices are really interested in the topic of energy and they're inviting me to show up and speak. Another pleasant surprise is that after I explain to the homebuyer and the agent on site what the Score is all about, that agent often becomes my best "marketer" to the rest of their office!
How has being a Certified Assessor™ affected your inspection process?
Since I collect about 90% of the information required for the Score as part of my normal inspection process, it probably only takes me an extra ten or fifteen minutes in total to collect the information. Big or complicated homes might be more than that, since I do have to take a few measurements, and I was definitely slower in the beginning. Once I had probably ten Scores under my belt, though, the process really came together and now I'm at most twenty- or thirty-minutes total to deliver a report. It's a small enough impact that I haven't raised my base rate yet, but I might do that since I'm seeing that the value of the Score justifies a modest increase.
How do your clients feel about receiving a Home Energy Score? Your agents?
So far, I have to say that both homebuyers and agents respond very positively to the Home Energy Score. It's just such valuable information for a homebuyer to have, since they tend not to have given much thought to how much they're going to have to pay for utilities, or to what they can do to reduce those costs if they buy the home. That's not to say that the Score doesn't sometimes bring some "hard truths", though – not every home is a good energy performer. I learned early on to set expectations that way, since it's easy to tell that some homes – if they're very old, poorly insulated, have end-of-service-life HVAC equipment, etc. – are going to get low Scores. What's interesting is that buyers of those homes seem especially grateful to have the information, and I've yet to see the Score become any kind of "deal-breaker." The agents notice that, too, and I think it just kind of shows them that I care about giving the best possible service and the most valuable information to our shared client.
Delivering the Goods
We know from hearing from out network around the country that the Home Energy Score delivers benefits to inspectors in three main categories, and our team has been working throughout the "off-season" to bring some tools to the table that let our clients make the most of all of them.
First, most successful inspectors know that their agent network is one of the biggest factors toward maintaining a consistent client flow, and that remaining "front of mind" with this group is a constant challenge. We have been pleased to see that the HES has proven to be an effective "foot in the door" for inspectors who do outreach with their agent networks, and while the DOE has always provided a "canned" presentation designed to meet this need, we recognized this well-intentioned content as too generic for the hard-to-please agent audience. Inspectors require something more specialized to the agents, something that speaks directly to their needs, and that's why ID Energy's new agent PowerPoint that can be customized to specific time ranges and delivers punchy, impactful info to agents detailing why the Score is good for their clients and their businesses without a lot of extraneous government-speak filler. That presentation is available now, and we are on hand to help with visual co-branding and audience-specific editing services.
Next on the list is a marketing task that no inspector has much time to bother with – creating effective collateral material that quickly explains the benefits of a given service. The DOE-provided materials are adequate for this task in a pinch, but again we saw an opportunity to deliver something that would really work for the inspector industry that we know so well. Our new hand-outs and flyers stylishly get the key points across to agents and potential clients, while highlighting the technical expertise and credibility that the Certified Assessor™ title confers.
Finally, inspectors need certainty around the issue of whether the services they're delivering really matter to their clients. After all, it's one thing for an inspector to hear that the Score is valuable for someone else's customers in a different market, but that's not the same as knowing for sure that your customers are valuing it. To address that need and to enable savvy inspectors to know that they're delivering the right mix of services, ID Energy is now providing a custom, co-branded Home Energy Score Report Template that not only livens up visual presentation of the standard (and somewhat clinical-looking) Report, but also includes a section where clients are able to rate their satisfaction with the Score, and provide any further comments about their experience. Feedback from buyers thus far has been very positive, and now ID Energy's network will be able to know without a doubt whether they're making a smart move by providing the Score.
iOS Home Energy Score App Update
You may be a reader of the ASHI Reporter magazine and regularly see our monthly Home Energy Score column. The March 2019 issue broke down some new data collection features, like our new one-page data collection and photo checklist sheet (the analogue app), but also highlighted the long-awaited Home Energy Score app for iOS devices.
"ID Energy took its extensive experience with both the DOE program and the home inspection industry to develop a handheld tool that pares down the process to generate a Score to the bare minimum, shaving off many unnecessary steps along the way. "The DOE's Scoring Tool is a great platform," Brent told us, "but there are so many redundant extra steps. We built in a lot of the required calculations already, which really speeds up the process and lets the inspector hand over the HES Report right there on the first visit if they want to." The ID Energy team told us that they're preparing for a surge in demand from home inspectors since many have been waiting for the "drop" of this time-saving app as the decisive factor in their own cost-benefit equations."
As stated in the issue, the new iOS Home Energy Score app was set to "drop" this week. Unfortunately, the U.S. Department of Energy issued new updates to the scoring tool technology last month and have another round of updates planed for this spring. To ensure all of I.D. Energy clients receive the best possible experience and performance, we have decided to delay the app release and integrate both current and future updates. At the time the ASHI Reporter March 2019 article was written, we were unaware of the updates and delay, I apologize for the announcement as it was already sent to print before we could amend the content.
A week doesn't go by where I don't receive an email, Facebook message, or call asking about the new iOS app. The app will be available for FREE to all assessors subscribed with I.D. Energy's Fast Track Training and Ongoing QA programs! Once the iOS app is released, the Home Energy Score Android app will be updated to the latest content as well to support both users types. I want to thank everyone who has given us feedback and helped I.D. Energy better our services and products to increase your performance and productivity. Stay tuned for a release date soon, it will be worth the wait! – Brent Loya, I.D. Energy Program Manager
Vol. 5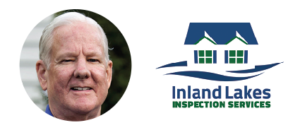 ---
ASSESSORS IN ACTION
Featured in the October 2018 ASHI Reporter Magazine.
Inspector: Gordon Glidden
Company: Inland Lakes Inspection Services
In the year that led up to that event and every day since, Gordon has been using the Home Energy Score to produce happier customers, and a better bottom line for Inland Lakes Inspection Services in the Metro Detroit and mid-Michigan areas, where he's been inspecting homes for 20 years. We caught up with Gordon recently to talk about the inspection industry from a veteran's perspective and the role that the Home Energy Score is playing in the continued success of his business.
Gordon's path to proprietorship began as a 15-year employee for a major national inspection firm, so he's earned the freedom to craft a special suite of services that has garnered a solid reputation for top-shelf expertise and professionalism for Inland Lakes. Any inspector who's entering their third decade in the trade is going to have a pretty good sense of what homebuyers expect out of an inspection (hidden, expensive repair projects, and health and safety items are a given), but what sets Gordon apart is a willingness to move beyond what's expected into a type of service that delivers what buyers truly need, even when they don't know to ask for it. That's definitely the category that the Home Energy Score falls into for Glidden's thriving business and we'll cover the basics of how he puts that into action below.
Why the Home Energy Score?
As the first-ever Certified Home Energy Score Assessor in Michigan, Gordon is not afraid to stick his neck out when a new service holds promise for his clients. He says, "I like to keep up on new technology, and if you look at what's happening around the country—from Portland to Denver—people are getting it."
He's not banking on any imminent policy mandates to justify his embrace of the Score, however, because he sees so much value in what the Score delivers to his homebuyers even without incentives. For example, because Michigan has yet to update some of its building energy codes and utility energy–efficiency programs, Gordon uses the Score to help compensate.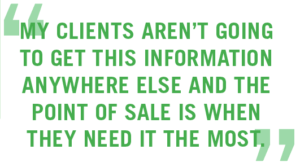 Working it into operations and marketing
Like many inspectors who have made the Score an integral part of their business, Gordon has become very efficient at providing energy–efficiency information to his customers. "It takes me about 15 minutes extra," he says, "and it will be even less when the iPhone app rolls out." Gordon credits his use of a laser tape measure to streamline the measurement data needed by the DOE and he cites the top-notch ID Energy scoring tool as another contributing factor behind his speedy delivery.
Gordon doesn't bother trying to upsell the service, either; instead, he opts to bump up his base rate slightly and build in a Score with every inspection, although he does exclude the Score for homes built since 2000. As for marketing, he's now developing a dedicated page for the Score on his website to maximize the co-branding benefit of being certified by the U.S. DOE. Also, he's mindful of how he communicates the implications of the Score to his clients. He says, "I tip them off to expect a low number when I know that's the case and I'm careful to frame the information the Score provides as opportunities for real improvement rather than inherent problems with the home."
Gauging real estate agents' responses
Gordon estimates that three-quarters of his leads come directly from his real estate agent network and he keeps agents fully aware of his range of services, including the Home Energy Score. When asked if agents are inclined to lump the Score into the dreaded "deal-killer" category, Gordon is characteristically candid. He says, "The good ones get it, no doubt, and the simple fact is that no buyer has ever run for the hills when they heard about sub-standard attic insulation."
Gordon leverages his status as the only Certified Home Energy Score Assessor in his market to generate material for presentations to agents, as well as to members of networking and charitable groups that he's involved with locally. He uses it as another opportunity to showcase his dedication to transparency and open communication. He says, "The agent gets copied on every Score I deliver. I can't guarantee that they're becoming energy geeks, but they do seem to recognize that it's to their ultimate benefit when I'm giving their buyers the best possible information about the home."
---
A Deal with all the Trimmings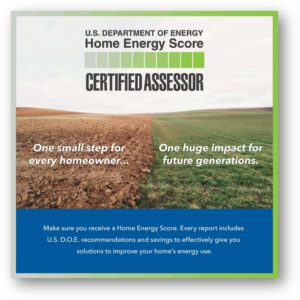 Black Friday, Small Business Saturday and Cyber Monday are the deal days of the year, but I.D. Energy is going a step further by giving you the WHOLE WEEK to save big on training for the Home Energy Score! Today through Monday the 26th get $50 off the Fast Track Training Package and become a Home Energy Score Certified Assessor™.  This is the last deal of the year so take advantage of it while you can, and keep in mind that you don't have to actually take the training during this busy holiday week – just sign on now to cash in on the low rate and then jump into the program whenever you're ready!
Get $50 Off Fast Track Training Now through November 26th!
Promo Code: TurkeyTime
Register Now!
---
Denver Home Energy Score Program Now Includes Home Inspectors

The fast-growing city and county of Denver, Colorado is launching a major addition to its Home Energy Score program, which now will pay home inspectors to provide one thousand Scores to homebuyers in that market over the coming year. I.D. Energy will be managing the rollout, so inspectors in the area should watch for details as to how to get involved. Denver will be looking to prove what many inspectors working with the Score already know – homebuyers really value having energy performance info about the homes they're looking to buy, and are willing to pay for it!
To access the Official Request for Information please see our Assessor Resources Page.
---
Winter is Coming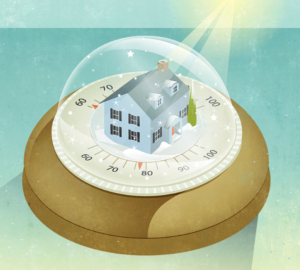 The NY Times asks, "Is your home ready for the first deep freeze?"
"Sure, the home inspection I had before I bought it revealed that the sewer pipe was cracked and the crawl space needed to be waterproofed. But it didn't tell me that my attic insulation was worthless or that the previous owner's renovation had covered up a vent in the kitchen with linoleum and a refrigerator, which is why the kitchen was boiling in the summer, even when the oven was off."
Read more in this New York Times piece about why many home inspectors end up taking a back seat to energy auditors when they're not trained to have the energy conversation.