Home Energy Score App
for iOS Devices
For all Home Energy Score Certified Assessors!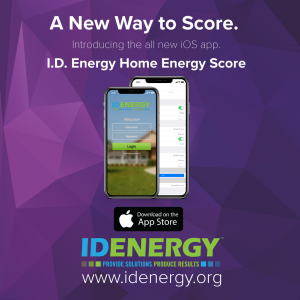 ---
"There is GOLD in GREEN"
"Energy Efficiency Brings Buyers"
…Says the National Association of REALTORS
A majority of real estate professionals—69 percent–said that promoting homes' energy efficiency features in listings is very or somewhat valuable, according to the newly released REALTORS® & Sustainability Report. The National Association of REALTORS® surveyed about 6,000 real estate professionals to learn about their clients' perceptions over sustainability in real estate.
Agents need to be ready to answer questions on the topic, the study found. Thirty-four percent of agents say that over the last year, they've been directly involved with a property that had green features, either on the buyer or seller side. However, 36 percent of agents say they are not sure how comfortable they are answering clients' questions about home performance; 20 percent said they were "uncomfortable"; and 6 percent said they were "extremely uncomfortable."
Still, over half of agents and brokers say that consumers are interested in sustainability. Some of the top issues agents say they're fielding questions about are related to lending options for energy upgrades or solar installations and to improving the energy efficiency of existing housing stock.
But many agents are still unclear about a lot of sustainability issues involving properties. For example, 50 percent of agents say they aren't sure if homes with green certifications increase or decrease time on the market. Thirty-eight percent were not sure how to connect clients with lenders who could help them in financing sustainability improvements on their property.
NAR offers the GREEN designation for real estate professionals to get advanced training in green building and sustainable business practices to help market properties with green features and respond to client questions. Also, NAR's Sustainability Advisory Group is offering a chance for members to get engaged in their communities around sustainability initiatives.
Forty-one percent of agents said their MLS has fields for green data, and they typically use those fields when they can to promote green features and energy information, the survey found.
The Green Features Customers Care Most About
Overall, the home features that agents said are the most important to clients related to a comfortable living space, proximity to frequently visited places, and quality windows, doors, and siding.
In general, the top neighborhood features that agents said their clients were most looking for were access to schools (80 percent), access to shopping (72 percent), and parks and outdoor recreation (59 percent), the survey showed.
Source: 
"REALTORS® & Sustainability Report: April 2019," National Association of REALTORS® (April 19, 2019)
---
UPCOMING CLASSES
October 17th, 2019 – Niagara Falls Home Inspection Conference Classroom Training. Learn More!
Use Promo Code: "SummerTime" to get $50 Off the Niagara Falls training until August 1st!
January 18th, 2020 – ASHI's Inspection World in New Orleans, LA. – Learn More!
---