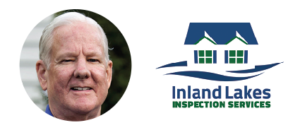 ---
ASSESSORS IN ACTION
Featured in the October 2018 ASHI Reporter Magazine.
Inspector: Gordon Glidden
Company: Inland Lakes Inspection Services
In the year that led up to that event and every day since, Gordon has been using the Home Energy Score to produce happier customers, and a better bottom line for Inland Lakes Inspection Services in the Metro Detroit and mid-Michigan areas, where he's been inspecting homes for 20 years. We caught up with Gordon recently to talk about the inspection industry from a veteran's perspective and the role that the Home Energy Score is playing in the continued success of his business.
Gordon's path to proprietorship began as a 15-year employee for a major national inspection firm, so he's earned the freedom to craft a special suite of services that has garnered a solid reputation for top-shelf expertise and professionalism for Inland Lakes. Any inspector who's entering their third decade in the trade is going to have a pretty good sense of what homebuyers expect out of an inspection (hidden, expensive repair projects, and health and safety items are a given), but what sets Gordon apart is a willingness to move beyond what's expected into a type of service that delivers what buyers truly need, even when they don't know to ask for it. That's definitely the category that the Home Energy Score falls into for Glidden's thriving business and we'll cover the basics of how he puts that into action below.
Why the Home Energy Score?
As the first-ever Certified Home Energy Score Assessor in Michigan, Gordon is not afraid to stick his neck out when a new service holds promise for his clients. He says, "I like to keep up on new technology, and if you look at what's happening around the country—from Portland to Denver—people are getting it."
He's not banking on any imminent policy mandates to justify his embrace of the Score, however, because he sees so much value in what the Score delivers to his homebuyers even without incentives. For example, because Michigan has yet to update some of its building energy codes and utility energy–efficiency programs, Gordon uses the Score to help compensate.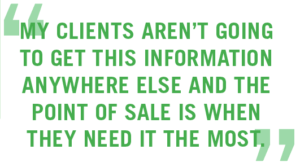 Working it into operations and marketing
Like many inspectors who have made the Score an integral part of their business, Gordon has become very efficient at providing energy–efficiency information to his customers. "It takes me about 15 minutes extra," he says, "and it will be even less when the iPhone app rolls out." Gordon credits his use of a laser tape measure to streamline the measurement data needed by the DOE and he cites the top-notch ID Energy scoring tool as another contributing factor behind his speedy delivery.
Gordon doesn't bother trying to upsell the service, either; instead, he opts to bump up his base rate slightly and build in a Score with every inspection, although he does exclude the Score for homes built since 2000. As for marketing, he's now developing a dedicated page for the Score on his website to maximize the co-branding benefit of being certified by the U.S. DOE. Also, he's mindful of how he communicates the implications of the Score to his clients. He says, "I tip them off to expect a low number when I know that's the case and I'm careful to frame the information the Score provides as opportunities for real improvement rather than inherent problems with the home."
Gauging real estate agents' responses
Gordon estimates that three-quarters of his leads come directly from his real estate agent network and he keeps agents fully aware of his range of services, including the Home Energy Score. When asked if agents are inclined to lump the Score into the dreaded "deal-killer" category, Gordon is characteristically candid. He says, "The good ones get it, no doubt, and the simple fact is that no buyer has ever run for the hills when they heard about sub-standard attic insulation."
Gordon leverages his status as the only Certified Home Energy Score Assessor in his market to generate material for presentations to agents, as well as to members of networking and charitable groups that he's involved with locally. He uses it as another opportunity to showcase his dedication to transparency and open communication. He says, "The agent gets copied on every Score I deliver. I can't guarantee that they're becoming energy geeks, but they do seem to recognize that it's to their ultimate benefit when I'm giving their buyers the best possible information about the home."
---
A Deal with all the Trimmings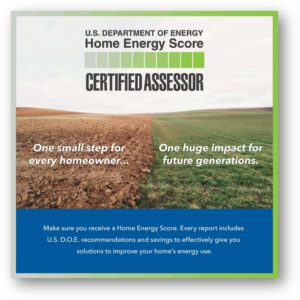 Black Friday, Small Business Saturday and Cyber Monday are the deal days of the year, but I.D. Energy is going a step further by giving you the WHOLE WEEK to save big on training for the Home Energy Score! Today through Monday the 26th get $50 off the Fast Track Training Package and become a Home Energy Score Certified Assessor™.  This is the last deal of the year so take advantage of it while you can, and keep in mind that you don't have to actually take the training during this busy holiday week – just sign on now to cash in on the low rate and then jump into the program whenever you're ready!
Get $50 Off Fast Track Training Now through November 26th!
Promo Code: TurkeyTime
Register Now!
---
Denver Home Energy Score Program Now Includes Home Inspectors

The fast-growing city and county of Denver, Colorado is launching a major addition to its Home Energy Score program, which now will pay home inspectors to provide one thousand Scores to homebuyers in that market over the coming year. I.D. Energy will be managing the rollout, so inspectors in the area should watch for details as to how to get involved. Denver will be looking to prove what many inspectors working with the Score already know – homebuyers really value having energy performance info about the homes they're looking to buy, and are willing to pay for it!
To access the Official Request for Information please see our Assessor Resources Page.
---
Winter is Coming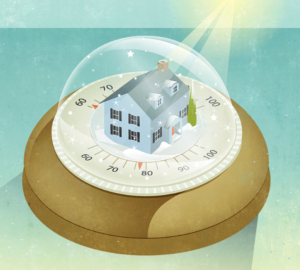 The NY Times asks, "Is your home ready for the first deep freeze?"
"Sure, the home inspection I had before I bought it revealed that the sewer pipe was cracked and the crawl space needed to be waterproofed. But it didn't tell me that my attic insulation was worthless or that the previous owner's renovation had covered up a vent in the kitchen with linoleum and a refrigerator, which is why the kitchen was boiling in the summer, even when the oven was off."
Read more in this New York Times piece about why many home inspectors end up taking a back seat to energy auditors when they're not trained to have the energy conversation.