"Scoring" Some Major Press
The Home Energy Score has been recognized over the years as a valuable service for efficiency-minded homeowners and homebuyers, but now that the program is really catching on (there were 50% more homes scored across the country at the end of 2017 as compared to 2016) some prominent media outlets are starting to take notice.
A great example is this recent article from the Washington Post, which strongly endorses the value of expert energy analysis for homeowners across the country,
and in particular the Home Energy Score's unique combination of simplicity, affordability, and valuable "real world" information.  ("read more" goes here?)
Highlighting the work done by the U.S. Department of Energy (DOE) in recent years to develop effective services that offer homeowners/homebuyers
energy-related information that they can truly act upon, the article uncovers a few key points:
When it comes to analyzing a home's energy performance, more detail does not necessarily equate to a more valid "energy audit".  Citing the Home Energy Score as an example, the article notes that the Score has proven its ability to deliver an accurate "snapshot" of a home's energy features and potential for improvement even though it can be completed by a home inspector in only a few extra minutes' work as part of a normal inspection.
Energy performance speaks as much to occupant comfort as it does efficiency, and homeowners need expert guidance to steer them away from common misconceptions.  It was a drafty room rather than high bills that drove the writer to an energy auditor, for example, and her assumption that windows were the culprit (a home energy myth if there ever was one) was corrected by her energy expert, who explained that insulation and air sealing were far better first steps to address her uncomfortable rooms.
Getting this energy-related information at the right time is as important as getting the right information.  It no doubt comes as music to the ears of all the Home Energy Score home inspectors across the country when the writer admits in closing that "we should have gotten an energy audit before purchasing our house."
More and more homebuyers are seeing the wisdom of the latter sentiment as they seek out high-performing homes to buy and full-service home inspectors to protect them in that decision — here's hoping that your business is ready to head the Home Energy Score call.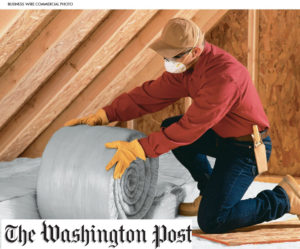 Portland 2018:  
What happens when a major city goes full-bore with The Score?
For those who haven't heard, the city of Portland, OR broke new ground when it adopted an ordinance last year stating that beginning in 2018 all single-family homes listed for sale will require a Home Energy Score that can be presented to prospective buyers.
Though a first in the U.S. for a major city, policies like this one have been commonplace in other countries for years, as local governments seek to provide their citizens with what they see as valuable point-of-sale disclosure information that can have major impacts on both monthly budgets for homebuyers and resale value for home sellers. (read more here?)
Portland-based home inspectors are of course a natural fit to serve this new market (listings are projected to number in the 14K range for 2018), and dozens of businesses signed up with ID Energy's Home Energy Score "FastTrack" in the latter half of 2017 to get ready for the big push.
And while the policy has only been in place for a few weeks, the inspectors who've spoken to us are positively "energized" at the Score's potential to build business.
Jonathan Wrobel with Portland Home Energy Score recognized a big opportunity when he saw one, but was worried that the Scores would take too long to profitably perform, and further that his hard-earned Realtor network would be hostile to the idea.
Happily for his business, neither of these scenarios have come to pass. "I was a little nervous on the first couple houses, before I got my system down," Jonathan told us recently, "but it's a really quick learning curve, and I can easily knock out 3 or 4 a day at this point."
Similarly, he's finding that his agent network is coming around to the idea of the Home Energy Score as a positive addition to the sales transaction:  "Disclosure is a huge part of integrity for us," Wrobel says about his business, "and our agent network is starting to see the Home Energy Score as a source of solutions for homebuyers, not just problems."
Wrobel's an enthusiastic graduate of the ID Energy Home Energy Score FastTrack ("quick and easy . . a very positive experience"), and sees the HES as a key part of the inspection industry's future.  He sees that future being driven both by forward-looking public policy like Portland's and by ever-savvier homebuyers who refuse to enter into such a high-stakes purchase without being fully informed about every aspect a home's performance.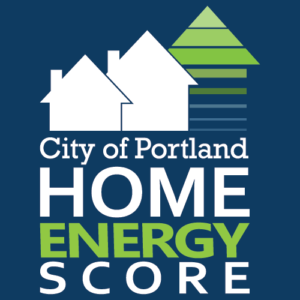 Look the Part!  
ID Energy offers you a better way to wear your expertise "on your sleeve"
One of the great benefits of being a Home Energy Score Assessor is the privilege of associating your business with an entity as credible as the U.S. Department of Energy.
The DOE and the Home Energy Score team have some nice branding materials available to their assessors, too — a variety of logos, flyers, scripts and other materials await every new assessor once they're brought into the program.
And while the Home Energy Score team provides resources to a wide range of professionals — energy auditors, utility employees, state and local government programs — I.D. Energy focuses on the home inspector industry, and as such has special insight into what actually works for home inspectors when they're on the job looking to make the best use of their various services and partnerships.
So it's in that spirit that our cracker-jack graphics department put together a new logo that's specially designed for inspectors.  It carries the "certified" language that homebuyers respond to, and is shaped to allow easy incorporation onto business cards, vehicles, shirts . . the works.
The new Inspector Logo is just one example of the suite of resources that ID Energy has put together to help inspectors build their businesses with the Home Energy Score.  Check out our "Assessor Resources" link here, and watch this space as we continue to bring on new tools and tactics!